I'm watching this video of a spoiled bunny rabbit growling and thumping his foot when his owner stops petting him and all I can imagine is a sleepy or tipsy Oz getting grumpy and grumbly whenever Gil stops giving him head pets.
some ph sketches
To never do
    the things I've done
    that once had led
    to my undoing.
    
    Lang Leav

god damn 3DMG is a pain in the ass, but now at least I've gotten the hang (hyuk hyuk) of it! alice and co still have inaccurate gear, since I drew from memory.

uh ok oz and friends are members of the 10…3rd…?? gil has been aged down to like, 16 so he can go mikasa on oz's butt. jack is the batshit crazy commander of the scouting legion. who rivaille and hanji is is pretty predictable lol
more to come i guess, i already have plans for elliot & leo, the rainsworths, and the baskervilles huehuehue. also, long hair is doubled up and tied tightly so they won't get in the way of the gear, so jack's and alice's hairstyles are like that.
la famiglia nightray
elliot is a concert pianist who has bouts of dissociative fugue, which happens whenever his bodyguard, leo, gets into life-threatening danger. I WONDER WHY hmm

vincent makes meth. haha, i kid, he makes much more illegal stuff. he and sharon usually love to try their chems on each other in a fashion that involves guns, stabbing, and zero permission.
gilbert is uhh, well, he uses AK-47s usually, has a bad smoking habit, and got wings tattooed on his back after failing to protect oz. he also cooks and cleans and deletes pictures of himself from vincent's iphone :( little brother why :(
(note: i only draw mafia characters from members of pandora/those who are known to have chains etc, but ghhkkk i want to draw vanessa and ada together somehow…..)
worst boss ever
because you know we need more gilko. and smug vincent. hehe.
(i'm sorry gil looks constipated, that corset ain't comfortable)
(for elzyzen, gilko's outfit (or at least, the top part) is from the animation guide. more gilko here)
i'd long wanted to indulge myself in a loveless!ph drawing lol. (and of course ritsuka and seimei - oz and jack! UHH i guess gil is still soubi. oswald can be like…ritsu…or glens are normally fighters for vessalius and jack killed his fighter and idk lol I ENJOYED THIS A LOT)
couple of thoughts 'bout the extra! elliot being starstruck (his little OMG LIAM IS REAL face is adorable), break's girly hands, liam cleaning up after him…haha! that was a fun one. 
duchess glen baskerville?? lady gilbertine nightray??
vincent will defend your honor, big sister—!
(gilbert is from the drama CD, the horror)
—
SAI, WIP: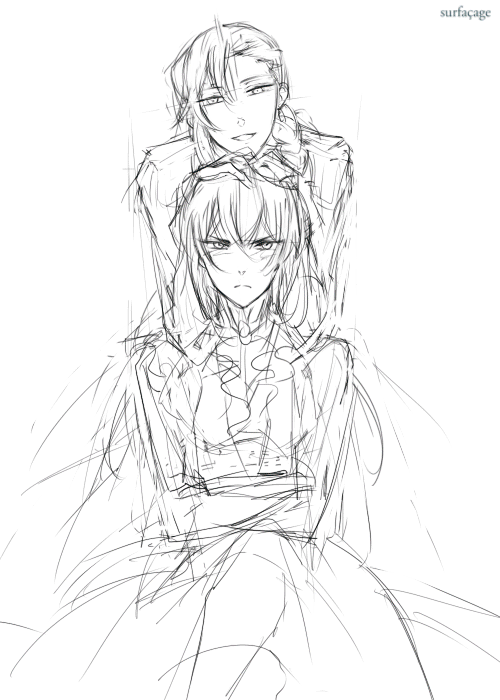 "Saved my manservant, huh? Seems you're not all useless, seaweed-head!"
"…you're late, stupid rabbit."
Someday perhaps you, too, will desire power
for another's sake.
On the night when love captures your chest,
unknown words will spring forth.

If I can follow my path without wavering,
I care not if my heart shatters.
I wish I had a spell
to stand against the sadness
that's ever before my eyes.
-Magia, Kalafina
Retrace 78: Decision
WIP: